Radiologic Technologist Training Program
Associates Degree in Radiologic Technology
Become a Radiologic Technologist With Cambridge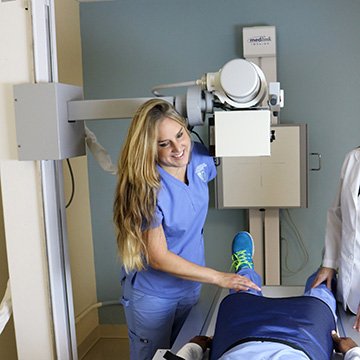 Cambridge's Radiologic Technology program delivers the training you need to enter a successful career as a radiologic technologist. The program takes approximately two years to complete. And once you're finished, you'll walk away with an Associate of Science in Radiologic Technology.
What Is a Radiologic Technologist?
A radiologic technologist, also known as an x-ray technician, performs diagnostic imaging procedures on patients, including x-rays. Radiologic technologists play a critical role in supporting doctors and healthcare professionals in diagnosing and treating medical conditions and injuries.
Why Choose Cambridge?
You have a ton of choices when it comes to attending a radiology program. However, many students choose Cambridge because of the many benefits we offer, including:
Hands-on training: You'll get to use the skills you learn in class in real-world scenarios at local healthcare facilities through our clinical externship program. As a result, you can enter your new career with confidence in your abilities.
Experienced instructors: Our instructors have experience in the field of radiology. This means you'll receive expert insights you won't find anywhere else.
Career Services: Our Career Services department serves students after graduation. We offer interview assistance, job placement services and more to help you secure a rewarding position in radiology.
Learn More About the Radiologic Technologist Experience in AtlantaLearn More About the Radiologic Technologist Experience in MiamiLearn More About the Radiologic Technologist Experience in OrlandoLearn More About the Radiologic Technologist Experience in Palm Beach
Radiologic Technology Curriculum
Our Radiologic Technology program covers everything you need to know for success. You'll learn how to position patients for exams, how to help protect patients from radiation and how to use x-ray equipment. You'll also have the opportunity to practice your skills in the real world through our clinical externship program.
Radiologic Technology Associate's Degree Courses
English Composition
Fundamentals of Speech
Anatomy & Physiology
Introduction to Health Science
College Algebra
Medical Terminology
Introduction to Computers
Introduction to Psychology
Introduction to Radiologic Sciences
Principles of Image Production
Cross Sectional Anatomy/Advanced Modalities
Radiographic Physics
Clinical Externship
Radiographic Procedures
Senior Registry Review
Radiographic Biology & Protection
Careers
Radiologic Technologist Work Environments
Radiologic technologists work anywhere x-ray imaging is required. This may include hospitals, clinics, doctor's offices, long-term care facilities, diagnostic imaging facilities and outpatient care centers.
What Is the Job Outlook for Radiologic Technologists?
X-ray technicians are in demand. According to the Bureau of Labor Statistics, the radiologic technology career is expected to grow by 9% between now and 2030 which is just as fast as any other career opportunity.
Radiologic Technologist Salary
The Bureau of Labor Statistics states that the average salary for a radiologic technologist is $63,710 per year or $30.63 per hour. Of course, this number could be higher or lower depending on your local job market and employer.
Associate's Degree Program Financial Aid
Are you concerned about paying for your education? If so, it's important to know that we offer various financial aid options to help support you. For those that qualify, some of our financial aid options may include:
Pell Grants
Florida Student Assistance Grant (FSAG)
Stafford Loans
Veteran Benefits
Scholarships
Certificate and diploma financial aid options
Degree
Upon successful completion of this program, students receive an Associates of Science Degree in Radiologic Technology
Program Summary
Associates Degree in Radiologic Technology
2-year curriculum
Hands-on experience at clinical healthcare facilities
Program Location(s)
Radiologic Technology Testimonials
FAQs About Our Radiologic Technology Program
What Does an X-Ray Technician Do?
X-ray technicians use x-ray equipment to take images of patients struggling with medical conditions or injuries. As a result, doctors and other healthcare providers can diagnose and treat these conditions.
Your other responsibilities may include injecting trace agents, maintaining imaging equipment, managing patient exposure to radiation and ensuring patients are comfortable during the x-ray process.
How Do I Become an X-Ray Technician?
To become an x-ray technician, you'll first need a high school diploma. Next, you must attend an accredited Radiologic Technology program such as the one offered through Cambridge. After graduation, you'll need to take and pass the ARRT board exams for licensing. Finally, you'll be ready for entry-level employment in the field of radiology.
Is the Radiologic Technology Career a Good One for Me?
If you enjoy the thought of helping patients but wish to do something other than nursing or in-depth patient care, radiology might be the perfect path for you. It's a rewarding career that enables you to make a difference in the lives of many patients every single day.
Read More Radiologic Technologist Program FAQs
---
Start Your Radiologic Technology Career With Cambridge
Want to start a career as a radiologic technologist or x-ray technician? If so, Cambridge is the place for you. To learn more about our program or to apply today, give us a call at 877-206-4279 or send us a message.
RECENT Radiologic Technology NEWS & ARTICLES
Will X-Ray Technicians Have Jobs in Ten Years?

Radiologic technology has always been an essential aspect of the healthcare field, helping medical professionals obtain detailed images of the interior body structure of patients. In light of the significant advancements in medical technology, let's consider the pathway to becoming a radiologic technician, the potential influence of artificial intelligence (AI), and the future job outlook for radiologic technicians. How To Become a Radiologic Technician Your career as a radiologic technician involves crucial steps in training, education, and professional development. Here's how you can get started: Advancing Your Radiology Career with Additional Specializations One of the benefits of choosing a career… Read more »

Average Salary of a CT Scan Technician

What is the average salary for a CT scan technician? Becoming a CT scan technician or a radiologic technologist involves a journey of learning and training. While we often first ask, 'How long does it take to become a Radiologic technologist?' it's important to consider the potential earnings after working towards earning your certification. In this article, we'll discuss the possible salary you could make and where you can go to learn more about this role in the healthcare industry. Becoming a Radiologic Technologist To become a radiologic technologist, you need to complete relevant coursework, which involves progression through foundational… Read more »

What Does a Radiologic Technologist Do?

Becoming a CT scan technician or a radiologic technologist involves a journey of learning and training. While we often first ask, 'How long does it take to become a radiologic technologist?', it's important to consider what it is like to be in this role. In this article, we'll discuss what it's like to be a Radiologic Technologist and where you can go to learn more about this role in the healthcare industry. Becoming a Radiologic Technologist To become a radiologic technologist, you need to complete relevant coursework, which involves progression through foundational and specialized training. Prospective students begin their journey… Read more »