Radiologic Technologist Training Program
Associates Degree in Radiologic Technology
Program Overview: Radiologic Technologist Training Program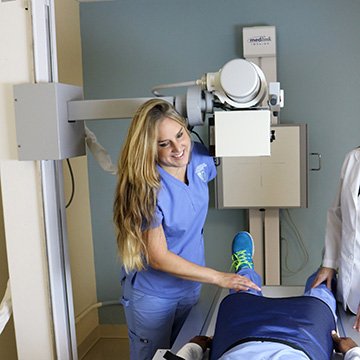 The Radiologic Technologist Training program at Cambridge College of Healthcare & Technology and Cambridge Institute of Allied Health & Technology offers students the education and training needed to start a career in the radiologic field in just under two years.
The program's curriculum and clinical competencies have been carefully developed in accordance with the American Registry of Radiologic Technologists (ARRT) guidelines. This ensures that students receive the knowledge and skills needed to pass ARRT board exams and excel in Radiologic Technologist careers.
Why Choose Cambridge for Radiologic Technologist Training?
Students choose Cambridge for Radiologic Technology training for many reasons, including the program's:
Online course availability: Some courses in the Radiologic Technologist program are offered online, allowing students to learn from the comfort of their own home. Online courses allow students to balance work, life and learning.
Hands-on learning: Throughout the program, students are offered the opportunity to learn using the latest in x-ray imaging technology. By gaining skills on technology used in the field, students get a jumpstart on their careers.
Focus on preparation: The program's curriculum has been carefully designed to arm students with the knowledge, skills and training needed to succeed in a career as a Radiologic technologist. Classes also prepare students to sit for, and successfully pass, the ARRT board examination.
Radiologic Technologist Program FAQ
Learn More About the Radiologic Technologist Experience in AtlantaLearn More About the Radiologic Technologist Experience in MiamiLearn More About the Radiologic Technologist Experience in OrlandoLearn More About the Radiologic Technologist Experience in Palm Beach
Job Outlook
Advances in x-ray imaging technology and an aging population have led to an increase in employment opportunities for qualified Radiologic Technologists. According to the U.S. Department of Labor, employment of Radiologic Technologists is expected to grow by 28 percent between 2010 and 2020. That far outweighs the average growth average for many other occupations.
Qualified Radiologic Technologists can seize the opportunities presented by this rapid growth by seeking employment at hospitals, medical clinics, physicians' offices and other medical facilities.
Careers
Overview
Radiologic Technologists play a vital role in the delivery of patient care. Radiologic Technologists administer, analyze and record X-ray images using the latest in medical technology.
What Does a Radiologic Technologist Do?
Working in healthcare facilities that utilize X-ray technology, Radiologic Technologists are responsible for a wide range of tasks, including:
Positioning patients for x-ray imaging
Ensuring the quality of x-ray images
Administering and analyzing x-ray images
Injecting trace agents
Operating and maintaining imaging equipment
Managing patient exposure to radiation
Degree
Upon successful completion of this program, students receive an Associates of Science Degree in Radiologic Technology
Program Summary
Associates Degree in Radiologic Technology
2-year curriculum
Hands-on experience at clinical healthcare facilities
Program Location(s)
RECENT Radiologic Technology NEWS & ARTICLES