Radiologic Technologist Training Program
Associates Degree Program in Radiologic Technology
Program Overview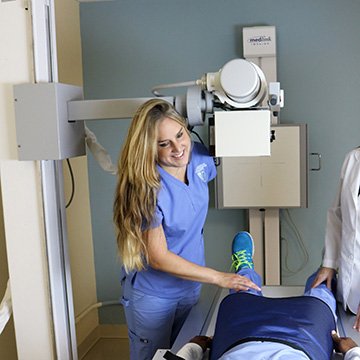 In just two years, you can be fully trained to work in a healthcare facility as a professional Radiologic Technologist.
The Radiologic Technology program at Cambridge College of Healthcare & Technology and Cambridge Institute of Allied Health & Technology trains students with a carefully planned didactic and clinical education experience, enabling students to become competent, entry-level Radiography professionals upon graduation. Clinical competency requirements have been developed in accordance with ARRT (American Registry of Radiologic Technologists) guidelines.
Available At These Locations:
Learn More About Our Florida Clinic LocationsLearn More About Our Georgia Clinic Locations
Our Radiologic Technologist Training Program Offers
Classroom learning lead by qualified, registered instructors.
Hands-on experience at clinical healthcare facilities, now offered in Miami, Fl.
Training on industry standard technology.
What Does A Radiologic Technologist Do?
From preparation to procedure and analysis, the Radiologic Technologist is an essential part of any healthcare facility that uses X-rays performing the following duties:
Administering and analyzing X-rays
Positioning patients
Ensuring quality X-ray imagery
Injecting patients with trace agents
Operating high-tech imaging technology
Reducing radiation exposure
A Hands-on Approach to Healthcare Training
At the Cambridge you'll be trained through clinical rotations at our new Miami location and/or affiliate hospitals in South Florida and Georgia, along with detailed experience in medical facilities. These classes at the Cambridge are unsurpassed in terms of personal attention and student preparation.
We are committed to academic and clinical excellence that ensures high-quality and hands-on instruction leading to superior patient care. Our facilities are equipped with industry standard technology and medical equipment. Our staff and instructors are skilled, experienced professionals in their field. Each of our graduates is fully trained and prepared to immediately work as a healthcare professional and take any necessary additional certification exams.
Radiologic Technology Program Disclosure
Your Next Steps
Job Outlook
Employment of radiologic technologists is expected to grow by 28 percent between 2010 and 2020, faster than the average for all occupations.
An increasing aging population will have more medical conditions, such as breaks and fractures caused by osteoporosis, which require imaging to diagnose and treat. Radiologic technologists will be needed to maintain and use the diagnostic equipment.
Although hospitals will remain the main employer of radiologic technologists, a number of new jobs will be in physicians' offices and in imaging centers. Employment in these healthcare settings is expected to increase because of the shift toward outpatient care whenever possible. Outpatient care is encouraged by third-party payers as a cost-saving measure and is made possible by technological advances, such as less expensive equipment, which allow for more procedures to be done outside of hospitals.
Source:
U.S. Department of Labor
Bureau of Labor Statistics
Occupational Outlook Handbook
Careers
Upon graduating with this associates degree from Cambridge College of Healthcare & Technology (Cambridge Institute of Allied Health & Technology) and successful completion of the ARRT board exam you'll be fully trained for an entry-level Radiography position. This unique position requires expertise in a combination of physics, anatomy and physiology, patient care and X-ray principles. Not only will you be prepared through classroom learning, you'll also be trained through hands-on clinical experiences, helping you to be even more prepared to jumpstart your healthcare career at radiology departments and imaging centers.
Opportunities for professional Radiologic Technologists, also known as Radiographers, are available at hospitals, clinics and imaging centers. Radiographers also commonly work in outpatient clinical settings, assist with complex procedures in surgery, and work in hospitals performing examinations. More specifically, popular job titles for Cambridge graduates of this accredited program include:
Radiologic Technologist
Radiography Technologist
X-Ray Tech
X-Ray Technologist
What Does A Radiologic Technologist Do?
Under the direction of a physician, the Radiographer applies technical knowledge to produce X-ray pictures called radiographs. These radiographs provide pertinent information to aid the physician in the diagnosis and treatment of patients. Radiologic Technician duties typically include:
Administering and analyzing X-rays
Positioning patients
Ensuring quality X-ray imagery
Injecting patients with trace agents
Operating high-tech imaging technology
Reducing radiation exposure
Online Training
Note: This program is only partially online. Students must live near our campuses in order to participate in clinical labs and other classes. (Delray Beach and Atlanta campuses only)
Cambridge offers online courses within its Radiologic Technologist program. Radiologic Technologist students can take advantage of the convenience of flexible scheduling that comes with online classes for some of the courses within the program of study. Request more information about the program or schedule an appointment by contacting one of our admission representatives today.
 Why Choose the Radiology Program at Cambridge?
It's one of the most convenient and flexible education options available, allowing you to complete most of your general educations courses from the comforts of home. During class you'll be actively engaged with your peers and able to receive one-on-one attention from your instructor. It's an ideal program for students with families, part-time work or anyone looking for a more flexible way to earn his or her associates degree.
Degree
Students looking to achieve an Associate of Science Degree in Radiologic Technology can do so at our Atlanta, Orlando or Delray Beach Campus. This program is 24 months in length and consists of classroom, laboratory, clinical, and general education course work. This is a great option for those students looking to reach the next level of their professional education.
At Cambridge we deliver training throughout our radiologic technology degree programs that prepare students with all of the hands-on experience necessary to be successful in this highly skilled field. If you have ever considered a personally rewarding career in the realm of healthcare, please contact our staff to learn about the benefits of gaining an education through our Atlanta, Orlando or Delray Beach Campus.