Bachelor of Science in Nursing Online (RN to BSN)
Program Overview
Complete in 16 months
7.5 or 15 – Week Courses
Interactive content, 3D animation, and video presentations bring the material to life and facilitate learning process with ease
Highly motivated and engaged faculty who are experts in their field, and committed to the students education
Coursework that is easy to access anytime, anywhere
Advance Your Nursing Career With a RN to BSN Degree From Cambridge
For many registered nurses, career advancement is a key goal. Continuing education is often a key step to reach this goal. Cambridge College of Healthcare & Technology's Bachelor of Science in Nursing program helps nurses gain the education and skills needed to increase their job responsibilities or move into key leadership roles within healthcare organizations.
Earn Your RN to BSN Online While You Work
Our RN to BSN program is offered entirely online, allowing you to work and live your life as you further your education. Curriculum covers key topics in the development of nursing leadership and management skills, including clinical, fiscal, legal and political trends impacting the healthcare industry and the nursing profession.
The program is designed specifically for registered nurses who are:
Licensed by the state
Currently employed
Interested in career and personal growth
Why Choose Cambridge for Your RN to BSN?
At Cambridge, we know you have many options when selecting a nursing school. We also know that choosing the right program for your goals, personality and schedule can be a challenge. We're here to help you understand everything we have to offer, and to guide you as you make this key decision.
Students choose Cambridge for many reasons, including our:
Flexibility: Our RN to BSN program's online delivery allows you to continue working while advancing your education. This helps you learn, without sacrificing any of your personal or professional responsibilities.
Commitment to students: Cambridge is expressly focused on the success and well-being of every one of our students. Our faculty and staff is here to help you succeed, to help you grow and to help you take the next step in your nursing career. Whenever you have questions or concerns, we are here to help.
Focused classes: Our small class sizes give you increased access to educators. Rather than becoming just another face in a crowd, you'll have the chance to create real, lasting relationships with professionals who are passionate about the art of nursing.
Tailored curriculum: The RN to BSN program has been carefully designed to include key curriculum delivered in a streamlined manner. You'll learn everything you need to know to advance your career, and do it in a timely and efficient manner.
Tradition of excellence: For years, we've helped nursing students take the next step in their careers. Through a mix of quality classroom learning, hands-on clinicals and mentorship, we've armed nurses with the knowledge and skills necessary for personal and career growth.
Following successful completion of the program, you'll have the knowledge and skills needed to practice safe, quality patient care, lead peers, promote practice quality improvements and much more.
Program Outline
Course Code
Course Title
Clock Hours
Semester Hours
BSC301**
Pathophysiology
45
3
ENC402**
College Writing
45
3
MAC310**
Statistics
45
3
NUR301
Nursing Informatics
45
3
NUR302
Nursing Research and Evidence-Based
Practice
45
3
NUR311
Health Assessment for the RN
45
3
NUR312
Professional Issues in Nursing
45
3
NUR313
Health Care Delivery Systems
45
3
NUR411
Population-Based Nursing
45
3
NUR412
Gerontology
45
3
NUR413
Health Promotion in Nursing
45
3
NUR430
Cultural Issues in Nursing
45
3
NUR431
Leadership and Management in Nursing
45
3
NUR432
Nursing Capstone
45
3
PHI401**
Critical Thinking
45
3
PSY401**
Abnormal Psychology
45
3
SUBTOTAL
720
48
* Credits
Awarded for Prior Learning and Admission
Requirements
—
77
TOTAL
125
* 77 semester credits will be awarded for satisfactory completion of a state Board of Nursing associate or diploma level registered nurse education program, for unrestricted state licensure as a registered nurse, and for demonstration of admission requirement of successful completion of 21 semester credits (or equivalent) of general education courses and required pre-requisite courses.
** General education courses
Program Student Learning Outcomes
The RN to BSN graduate will:
Practice safe, quality care to patients, including individuals, families, groups, communities, and population across the lifespan and across the continuum of health care environments;
Assess the variations, the complexities, and the need for increased use of healthcare resources in providing patient care;
Apply leadership knowledge and skills in nursing care and collaboration with health care team;
Demonstrate the ability to communicate, collaborate, and use teamwork among healthcare professional;
Evaluate research evidence and translate into an evidence-based nursing practice;
Promote quality improvement in nursing practice;
Apply knowledge and skills in information management and patient care technology; and,
Examine health care policies, finance, and the regulatory requirements of the profession and nursing practice.
Bachelor of Science in Nursing FAQ
Learn More About the BSN Online Program Experience
NC-SARA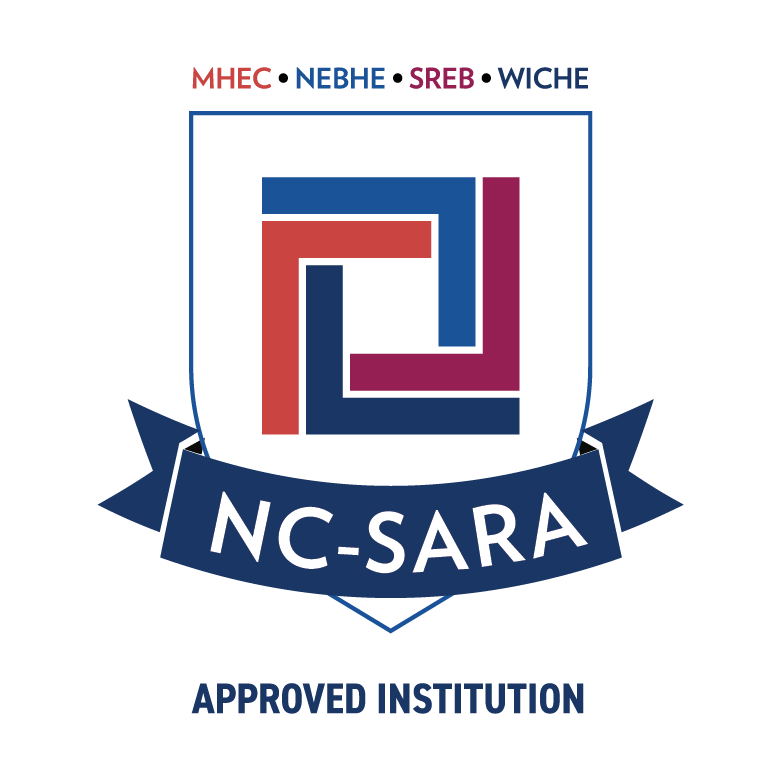 Cambridge approved to participate in NC-SARA
Cambridge College of Healthcare & Technology has been approved by (Florida) to participate in the National Council for State Authorization Reciprocity Agreements. NC-SARA is a voluntary, regional approach to state oversight of postsecondary distance education.
Cambridge Institute of Allied Health and Technology has been approved by (Florida) to participate in the National Council for State Authorization Reciprocity Agreements. NC-SARA is a voluntary, regional approach to state oversight of postsecondary distance education.
Please visit nc-sara.org to learn more.